art | illustration | graphic design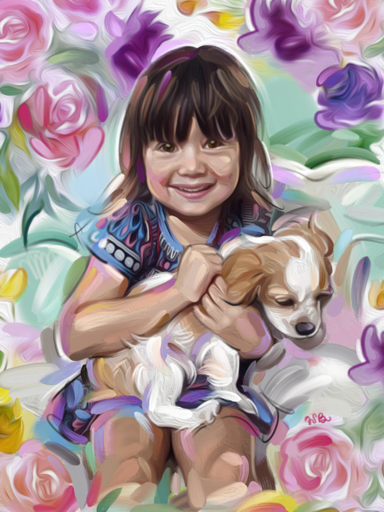 Hi, welcome to my website! I am a passionate artist, illustrator and graphic designer. I create custom art for clients world wide. My specialty is digital hand painted portraits and 'Happy Watercolors'. I also make illustrations and graphic designs such as logos for businesses. More about me...
Follow me on facebook to stay updated about new works and join us in fun giveaway contests. You might win a free portrait! Follow me on instagram in my journey of urban sketching in the city and at events. For inquiries about commissioning art work, illustrations or graphic design projects contact me

© 2004-2020 Wendy Beugels, all rights reserved
---
Wendy's Watercolors. A mixture of reality and my own interpretation. With whimsical lines and colors I try to create happiness in my art. If you like to have a custom painting of your home, favorite place, or precious memories send a message. See more art works...
---
---
Custom cartoon style portrait of yourself. Great to use for social media profiles, business or just for fun!

---
Digital hand painted portraits and drawings are made with digital pen and tablet. They have similar visual effects as traditional medium like oil and acrylic brush strokes, airbrush and pastels. Easy and quick, the portrait is send as digital file to your email. The portrait can be printed on canvas or paper in the size of your preference. Looks great as larger print on your wall or a cute small table top size for on your desk! Prices

---
Graphic design. Logos, layout design, marketing tools, commercial illustrations and more. I combine my artistic skills with graphic design.